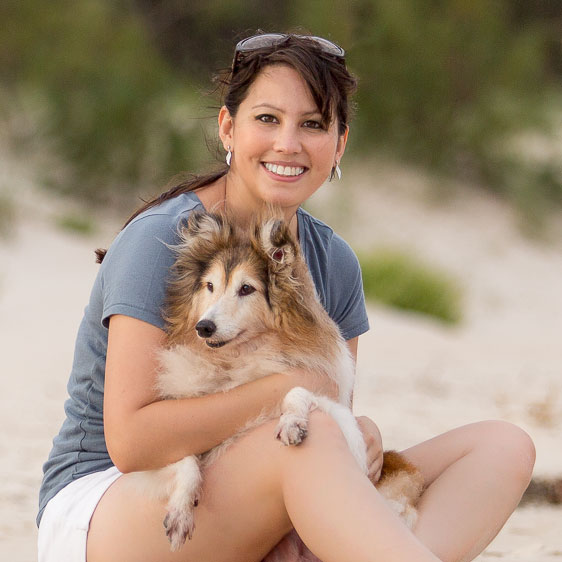 Chase and me
Two bookmarks. One on the page describing the Kromfohrländer (a rare German breed), and the other on breed profile of the fluffy Shetland Sheepdog.
Those were the dogs I picked out from a book when I was 12, but unfortunately I couldn't convince my parents that the dog obsession wasn't just a phase (are you reading this, mom?!). About 10 years later, after moving from Germany to Australia, I finally fulfilled that childhood dream and picked up my new puppy, Chase. Chase is, of course, a fluffy Shetland Sheepdog.
Floppy ears, spotty belly, and an adorable face that just screamed mischief – that's how I remember Chase as a puppy. Unfortunately, that was before I had found my calling in photography, so the only photos I have of that time are blurry point-and-shoot camera snapshots. Thankfully, I learned my lesson, and the rest of Chase's life is well documented. Everything from his big Sheltie grin, the way he uses his soft toys as pillows, the intense, alert look on his face when I ask "Where's the kitty cat?", to the heart melting puppy eyes he puts on when he's trying to extort a treat out of me has a place on the walls or in albums.
And I want to make sure that you've got forever keepsakes of your beloved pet too. All those little looks and precious quirks that would be a crime to forget someday.
Everyone should have some great professional photos of their pet. They are part of the family and we spend our lives with them, but unfortunately our time together is way too short. Sometimes it's easy to forget to make this a priority until it's too late. So whether you have a new puppy or kitten, or your pet is already grown up, or even a senior, please get in touch and let me show you how easy it is get beautiful photos of your pet that you can proudly display in your home and remember everything that's special about them. That will make you smile every time you see them.
When I'm not taking photos or hanging out with Chase, I like to ride horses, play volleyball, read and draw. I'm a fan of all things cute, pretty and delicious (and subsequently spend way too much time on Pinterest). I studied Graphic Design, which helps enormously with photography. My favourite past times also include cuddling up on the couch with Chase and catching up on Suits, Sherlock or Parks & Recreation, and singing along loudly and horribly to Bruce Springsteen in the car.
Hope you to hear from you soon!
Lynn
PS. I volunteer my services to shelters and rescues to help promote adoptable pets – you can read more about that on the Giving Back page.