For week 2 of the "Project 52 Weeks", the theme is Joy. If you missed the first blog post from last week, you can see it here: Project 52, week 1: Introductions.
For the last week, I've been racking my brain and trying to think of something clever for this topic. After a while, I came up with the idea of photographing Chase in midst of all his toys (trust me, he has LOTS) – toys are fun, right? So I gathered all his balls and ropes and stuffed toys, sat him down in the middle, and took a few photos. But somehow, the concept of joy didn't really come across at all. So I thought about it a bit more – what IS joy to me?
The answer was ridiculously easy. Chase's big smile. His furry ears that flop as he walks next to me.
A lot of the time, the simplest solution is the best one, and the little things matter most. Not to get philosophical, but while I was trying to think of ways to be clever and incorporate lots of props, I missed what was actually important and the truest interpretation of joy. So I just put Chase in front of the sunshine-yellow wall in my dining room, promised him yoghurt and liver treats, and there you go. You gotta admit, those ears are stinking cute.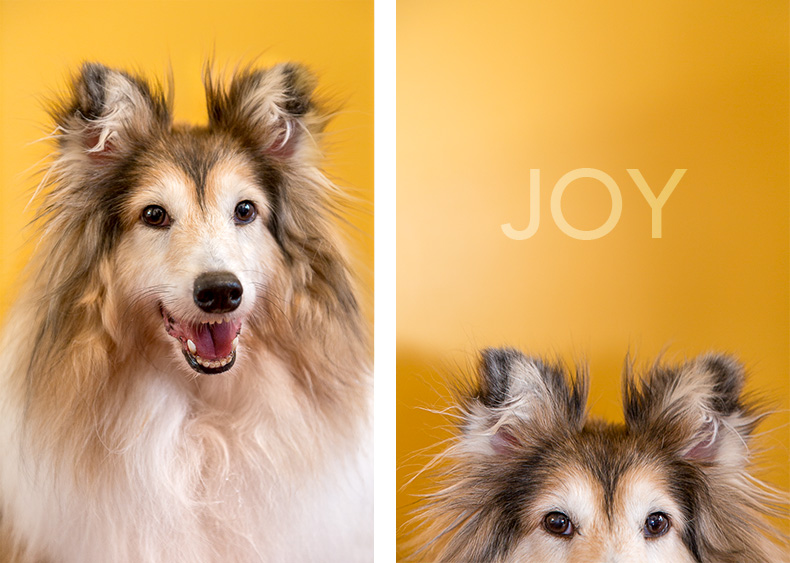 And again, please visit the other amazing photographers participating. Next up in the blog circle is For the Love Pet Photography in Portland, Oregon. Go have a look!